Why Florida-Bred? Check out the Economic Impact the Horse Industry has on Marion County!
admin June 1, 2017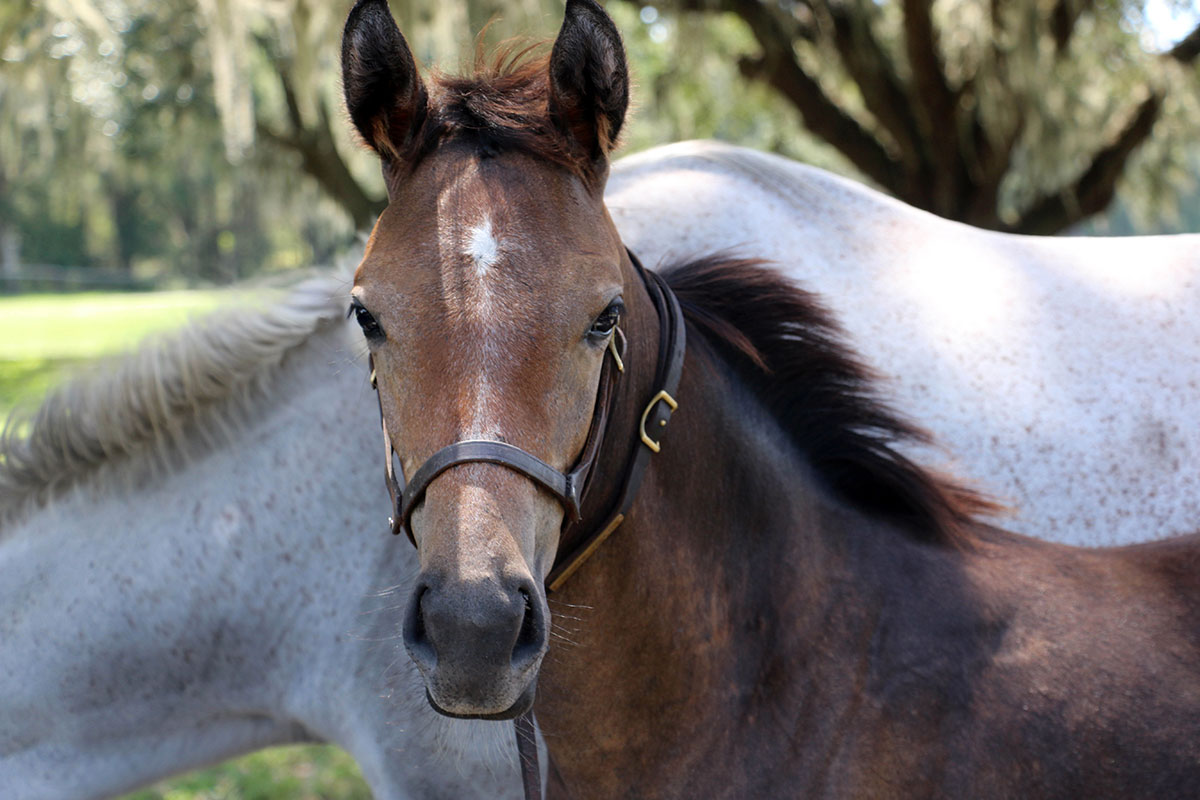 From Ocala/Marion County's Thoroughbred farms and training centers, to major bloodstock auctions and the excitement of racing at three racetracks and ITW simulcasting, Florida has it all!
Florida is home to some 600 Thoroughbred farms and training centers, with more than 75 percent of these located near Ocala in Marion County. Ocala is also home to the Ocala Breeders' Sales Company, which stages major bloodstock auctions throughout the year. OBS also operates an ITW simulcasting theater and each March hosts the annual Week of Champions races. The Florida Thoroughbred Breeders' and Owners' Association is also located in Ocala. The FTBOA administers the $15-million state breeders' incentive program and is responsible for promoting the Florida Thoroughbred industry.
The concentration of the Thoroughbred breeding and training industry in the Ocala/Marion County area is strongly supported by a network of equine services, such as veterinarians, feed and tack retailers, blacksmiths, equine dentists, and major horse transportation companies. All these factors make Ocala one of only four major Thoroughbred breeding and training centers in the world.
A Look at the Economic Impact of the Horse Industry on Marion County:
Results of the Economic Impact Study are Released
By Sadie Fitzpatrick
Provided Courtesy of FTBOA and Ocala/Marion County Chamber & Economic Partnership
A recent study commissioned by the Ocala/Marion County Chamber & Economic Partnership with support from HITS and Hampton Inn & Suites found that the equine industry has a $2.62 billion economic impact on the Ocala/Marion County area. Ocala has long held the title of the "Horse Capital of the World" because of the hospitable climate in which to breed and raise horses as well as the close-knit equestrian community that has created world-renowned shows, sales, and breeding farms. This "Horse Capital of the World" title began in the 1950s when the Ocala-bred racehorse "Needles" won the Kentucky Derby in 1956, and the fervor for the horse industry continued to grow. In 1979, "Affirmed," a horse produced by Ocala's Harbor View Farm, swept the Triple Crown, a feat which no other horse has since accomplished.
This study was conducted by Kathleen Davis of Sports Marketing Research Institute in Carlsbad, California, a research firm dedicated to helping major companies determine where and how consumers are spending their discretionary income. Their clients include Major League Baseball, NASCAR, and the NFL. A two-phase onsite/online approach was used to determine the economic impact of the equine industry.
First, more than 500 OBS event participants, contractors, and vendors were surveyed while attending an OBS equine sales event to provide a brief snapshot of the nature of equine-related economic activity. Secondly, an online survey of all types of business establishments in the Ocala/Marion County area was conducted. The study analyzed the following aspects of the Ocala/Marion County equine industry and its impact on the Ocala/Marion County Metropolitan Statistical Area (MSA):
Direct impact dollars spent due to the regional hosting of equine industry sales events/shows, new/existing business development attributable to equine industry operations
Annual event participants, vendors, exhibitors, and contractors associated with the equine industry
Re-spending as a result of the direct equine industry expenditures from introduction of new economic impact activity into the Ocala/Marion County MSA study area
Evaluation of how much Ocala/Marion County equine industry revenues were introduced into the study area economy
Types of local businesses affected by Ocala/Marion County equine industry spending
Examination of the number of jobs in local businesses affected by equine industry spending

When analyzing data from the OBS sales event, the study found that 70.7% of attendees had a favorable image of the area from their attendance at the sales event, and 93.7% of attendees planned to revisit the Ocala area in the coming year. The visitors' average stay was 5.91 nights and 85.3% of the OBS sales event attendees were staying at a hotel, condominium or rental unit.
More figures for OBS include:
For the calendar year 2014, over 3,100 horses were sold at OBS for a record total of more than $142 million, a 20% increase over 2013 gross sales.
Buyers represented 42 states and 18 countries. Japanese buyers bought 20 horses for over $4 million in 2014 and have spent $10 million in the last three years at an average price of about $200,000.
Korean-based buyers purchased 147 horses at OBS for over $4.4 million in 2014 and have spent $26 million on 1,417 horses at OBS since 2000.
Representatives from Qatar spent over $2.3 million on eight horses including one for $1.6 million. This purchase tied for the highest price for a two-year-old in training in North America with all three top sales occurring at OBS.

Another major equine industry event that was a part of the study was the HITS Winter Circuit, which is one of the largest and longest-running events in equine sports. It is a 10-week equestrian event staged annually from January through March at HITS Post Time Farm in Ocala. The circuit attracts competitors from the United States, Canada, Mexico, South America, and Europe. This event attracts more than 20,000 spectators, and the study found that during the 10-week HITS circuit, 84,165 rooms were utilized for the event, including hotels, rented condos, apartments, timeshares, and RV/campgrounds. The direct expenditures by out-of-town visitors and expenses was more than $63 million with a total industry output impact to the Ocala/Marion County area of more than $94 million.
More statistics regarding the impact of HITS on the Ocala/Marion County area include:
Out-of-town visitors traveled to Marion County primarily by car/automobile (48.6%) and secondarily by commercial airplane (46.6%)
85.1% of out-of-town visitors planned to return to Ocala/Marion County within the coming year
19.9% of out-of-town visitors surveyed have purchased real estate in Marion County
Survey respondents rated the "overall experience" at the 2014 HITS Ocala Show higher than the WEF-Wellington/Classic Pensacola and Classic Gulfport, other Florida-based shows
72.4% of out-of-town visitors were female, with an average age of 47.2 years, earning on average $223,470 in annual household income

Overall, the results of this study indicated that the total economic impact of the equine industry annually in Marion County is $2.62 billion in revenues, $1.60 billion in value-added contribution to the Gross Domestic Product (GDP), and employment of 19,209 full-time and part-time jobs.
Lonny Powell, CEO of the Florida Thoroughbred Breeders' and Owners' Association, remarked on the impact of the equine industry on Ocala/Marion County saying, "This industry is an enormous job-creation engine for Marion County and the newest study shows the talent pool for equines is strong here. Some of the top trainers and equine athletes of all disciplines, along with accomplished professionals such as veterinarians, make their home base right here."
The authors of the study suggested that because of the major impact the equine industry has on the Ocala/Marion County economy, a number of specific strategic recommendations should be implemented to maintain this great economic impact. The most important aspect to capitalize on when hosting large-scale equine and sporting events is the return business. With more than 80% of HITS/OBS participants indicating they plan to return to the region in the next calendar year, this indicates positive measures of repeat business and travel to the area, which should be documented by the Ocala Visitors and Convention Bureau and other county organizations. Continued documentation of return visitors to the area would serve as a barometer for exactly how vested the out-of-town visitors are in the area as a destination for future vacations, business meetings, and relocation to the vicinity.
These large-scale sporting and equine events attract a number of visitors to our region, specifically to attend these types of events. These events bring media coverage via print, cable, broadcast, and Internet mediums, which creates an added value of showcasing Ocala/Marion County and what the surrounding area has to offer to domestic and international visitors to the region. This is another example of the importance of tourism brand integration for community and regional economic development agency leaders to tout Ocala as the "Horse Capital of the World."
Along with the importance of print and broadcast media in showcasing Ocala/Marion County is the need to maintain a strong social media presence to engage out-of-town visitors and build long-term relationships. Hospitality, travel, leisure and other related businesses should utilize social media platforms to motivate these out-of-town visitors to visit frequently, stay longer and spend more money in the area.
This report found that the average household income of HITS Ocala out-of-town participants was $223,000.00, which is in the top three percent nationally. This high socioeconomic status of visitors attending the 2014 HITS Ocala event and the OBS equine sales event distinguish these events consumers from other regional large-scale events such as the Jacksonville Jaguars, Miami Dolphins, University of Florida, and Florida State University football games.
These monetary figures add support to the idea that visitors to these equine events provide a larger discretionary income to spend when compared to typical out-of-town visitors. It is recommended by this report that regional county and state government and tourism agencies should be aware of the economic advantages that future equine-related events have to offer to tax rolls, employment generation, and regional business stimulation to area hotels, restaurants, and entertainment/arts enterprises.
The final recommendation of the study suggested that outreach campaigns targeting education of government agencies and private foundations should be implemented in order to educate these agencies about how their continued support for the equine business in Ocala could increase profit margins for both area businesses and the equine industry. It is strongly suggested that the county continue to invest and build the equine industry toward sustainability, and that future funding and tax incentives for equine business should be instituted to continue to add to the economic development of Ocala/Marion County and create more job opportunities.